Heading To LA: The Road To #Brackett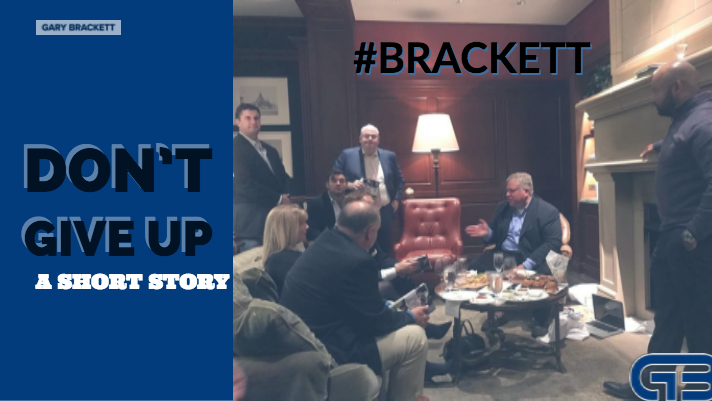 What's going on #TeamBrackett?!
I've been on the road all week, and though it's been a nonstop grind since we landed, it's been a blessing. The way I see this trip, in my head is: "Another trip to LA, another step closer to making #Brackett a reality." Entrepreneurship is a long but rewarding road.
The journey of writing my life story is one of self-reflection & realization. It started when I got a call from Tom McCabe, a dear friend and supporter. Tom, a fellow Glassboro HS alumni, and whose father was once Mayor of Glassboro & mother, my substitute teacher reached out about my first book, Winning, back in 2011. His mother & my old teacher purchased copies of the book, and sent one out to her son. We connected on that and while we had a great conversation about the book, I thought it to be a good talk with an old friend, not much more–but it's funny how life works.
Building The Team: Keep The Family Close
Some years later he would reach out and introduce me to his cousin Mark Famiglietti. Mark is a writer and actor based in Hollywood and wrote my film treatment (a cross between the book and a full script). I got to catch up with Mark on #SuccessLeavesClues (episode coming soon) and to talk about the progress since our meeting was SENSATIONAL. Anyhow, once Mark and I had the treatment in place we went on the road to my hometown to connect with some decision makers about what we could potentially get access to while shooting in GIassboro.
Though our meeting went well, we heard some questions and some slight skepticism from the group. I thought to myself: "To stand out we have to have more than a book and a treatment– we've got to turn our efforts up a notch!". Then it hit me: I suggested we shoot a short promotional trailer to answer the question of who would direct who would play me.
Dozens of names were mentioned as potential leads. We went with my favorite of the group, Dexter Darden, to play the leading role (me) And Mo Mcrae (aka Mo Mo Dee) to direct–both were perfect picks for the trailer.
Next Phase: Get The Word Out
After getting that filmed and creating the general content for the film, we moved to the next phase: DISTRIBUTION! We created a website and social media page using the assets we accumulated from our hard work creating the trailer. We we proud of the work we had accomplished.
Even after all that, we were still met with push back: "Where's the script?!" Though we were surprised, more so by our own hopes, we knew there was more work to be finish.
We wiped the slate in our minds and began working— this time on a time crunch. Within a week of hearing the feedback, we delivered a script and budget to our key stakeholders. With the assets in hand, each piece crafted with dedicated hearts and minds, the pitch process began. We were able to get the project in front of prospects we did not know we could net, and landed some pretty big meeting because of the assists coupled with the hard work and cold calling prowess of my guy Tom.
Doors Opened: Charting The Course
By telling this short story, I mean to bring you up to speed on where we are with the project. I'm all in on this and am proud to be working with a dedicated, consistent, and diligent team. This story is also meant to be a #Clue for you: whatever you dream, pursue to the best of your abilities—but never without a PLAN! Dreams come true with intentional planning & even more dedicated execution of that plan. Whether you pursue entrepreneurship or want to bring a vision or idea to life, it all starts with charting the course.
Doors were opened because we had a solid plan and worked to get our assets in place. By that same token, we saw how skeptical people can be, even of great idea initially because of the LACK of assets. Again, this is where building great teams matter. We are all powerful train cars by ourselves, but together, we are a powerful locomotion capable of taking ourselves to new heights. This applies to business, philanthropy, creative passions, and life.
Clues For You: Plan, Build, Execute (#DontQUIT)
Entrepreneurial goals like this involve a decent amount of capital. They also take a considerable amount of time. By the same token, the PRINCIPLES found here are not limited to the arena of film making. I fully believe that no one takes anyone entrepreneur serious without any skin in the game. You've to be willing to put boots on the ground & WORK. And with all intellectual, financial, and human capital we've amassed, we have everything we need to set a soft production date of October 1st. It's a blessing to see how real goals become when you set a date. Wish us luck as we finish or round of funding to make #Brackett the movie a reality. 
This movie is a microcosm of my reality. The trial is and tribulations that I have been through and continue to overcome everyday throughout this journey called life are a true testament to what can happen when you don't give up. So my #clues for you here are:
Develop a plan.

Build a team that sees your vision and has the skills to make it a reality.

Do not allow yourself to be discouraged by questions or skepticism.

Excute, Execute, Execute

DON'T GIVE UP!